ABOUT DAM
From Corporate Pensions and Group Risk schemes through to financial education sessions, Davidson Asset Management (DAM) design and implement financial benefits packages that cannot only be tailored to meet their clients individual requirements, but also help them to develop an 'employer of choice' status - a particularly important trait in today's ever competitive marketplace. 
THE BRIEF
Davidson Asset Management (DAM), is launching this year's (2021) integrated campaign, which aims to raise brand awareness and also demystify the pension planning process for consumers.
The campaign uses the
"Taking Care of your Tomorrow"
messaging to target 35-50 year-olds who want to save money for their future, but find the process challenging or confusing.
Research reveals that 47% of 30 to 50-year-olds are not saving adequately for their retirement, which this age group by and large feels that, whilst pensions are important, they are also too daunting and complex.
This campaign aims to dispel some of these worries by underlining the fact that DAM will take care of their tomorrow and that signing up for a good pension scheme, is what will make their lives better once they retire. The strap line chosen to reflect this, simply reads: 
"It's what makes a DAM pension so DAM good."
The same messaging - "Taking Care of your Tomorrow" - is also used to target employers. Setting up a group employee pension scheme is a highly effective way to improve staff welfare and establish loyalty. Pensions could be a deciding factor for many people as they choose whether to work for one employer or another, which is why having an excellent corporate pension plan gives a massive advantage to employers. The strap line chosen to reflect this, reads: 
"Give your employees a happy and secure retirement."
My goal was to create a clean and concise brand presence that visually presents the messaging and benefits in a simple and clear manner. 
The campaign features two categories of images. The first one, is images of the target group (35 to 50-year olds) working in the hospitality industry. 
These images always use the strap line
"Give your employees a happy and secure retirement."
The second category of images, focuses on older people, retired, showing the joys of life at this age. Spending time with their grandchildren, trips or walks with their partner, or even simply being happy. These images use the strap line
"It's what makes a DAM pension so DAM good."
The angled shapes and the monotone images used within the design are flexible allowing them to be used effectively across a wide range of campaign materials, whilst keeping brand consistency.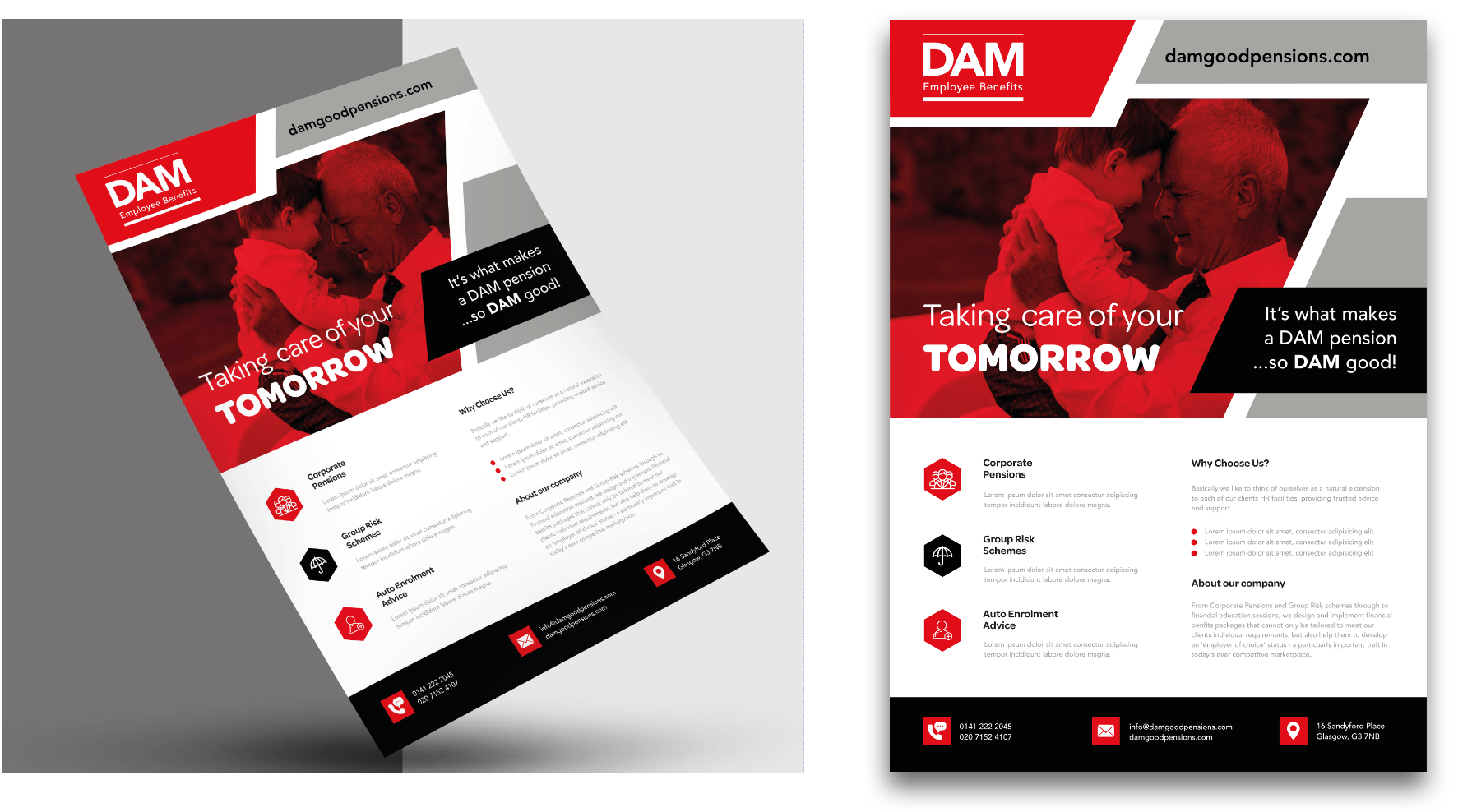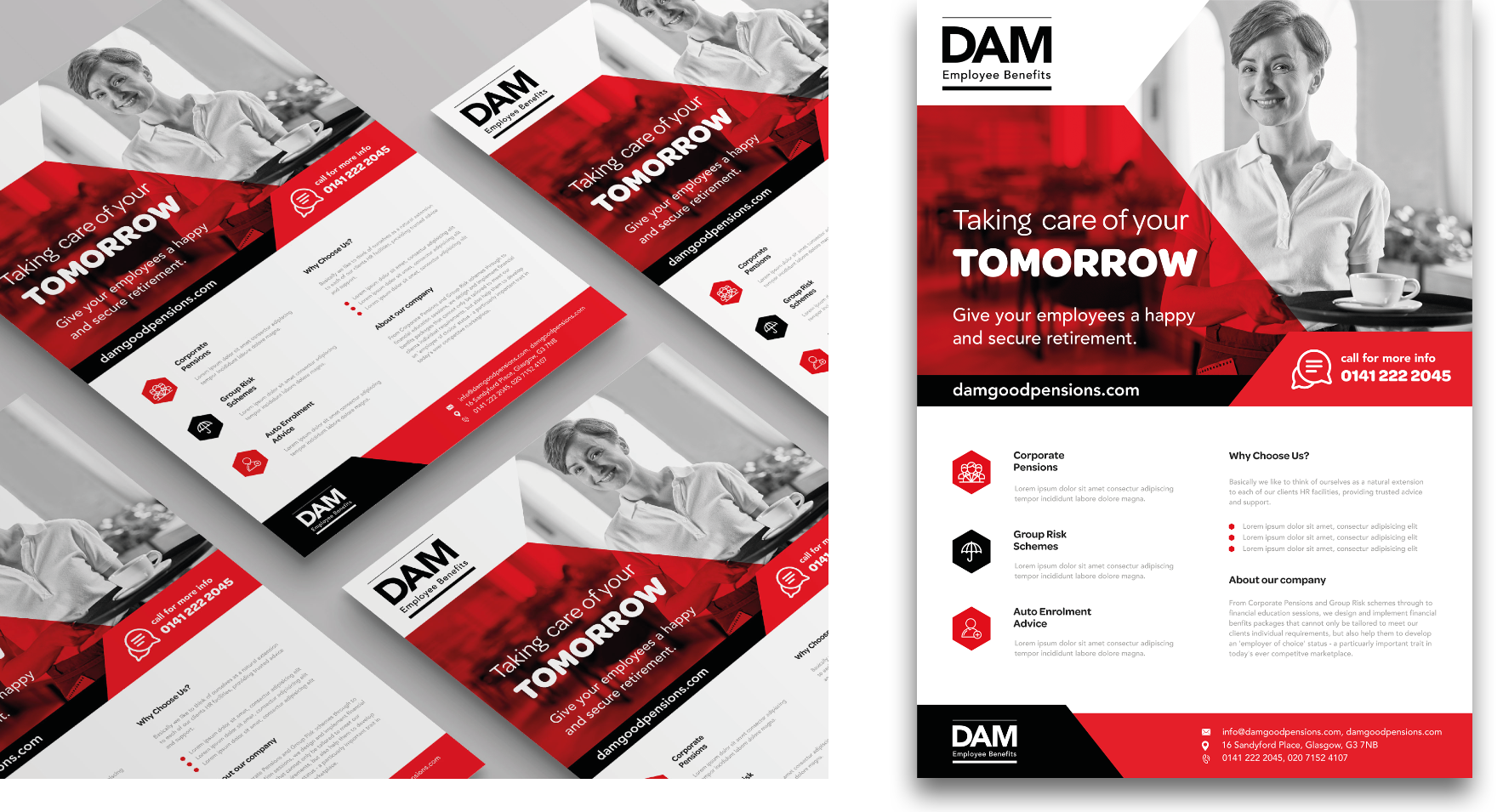 The campaign will run across OOH (billboards, posters, flyers), digital, social platforms, in addition to being communicated to the DAM customer database.
It's all very lively and upbeat, which helps bring home the brand's underlying message that opening a pension should be everyone's
main goal.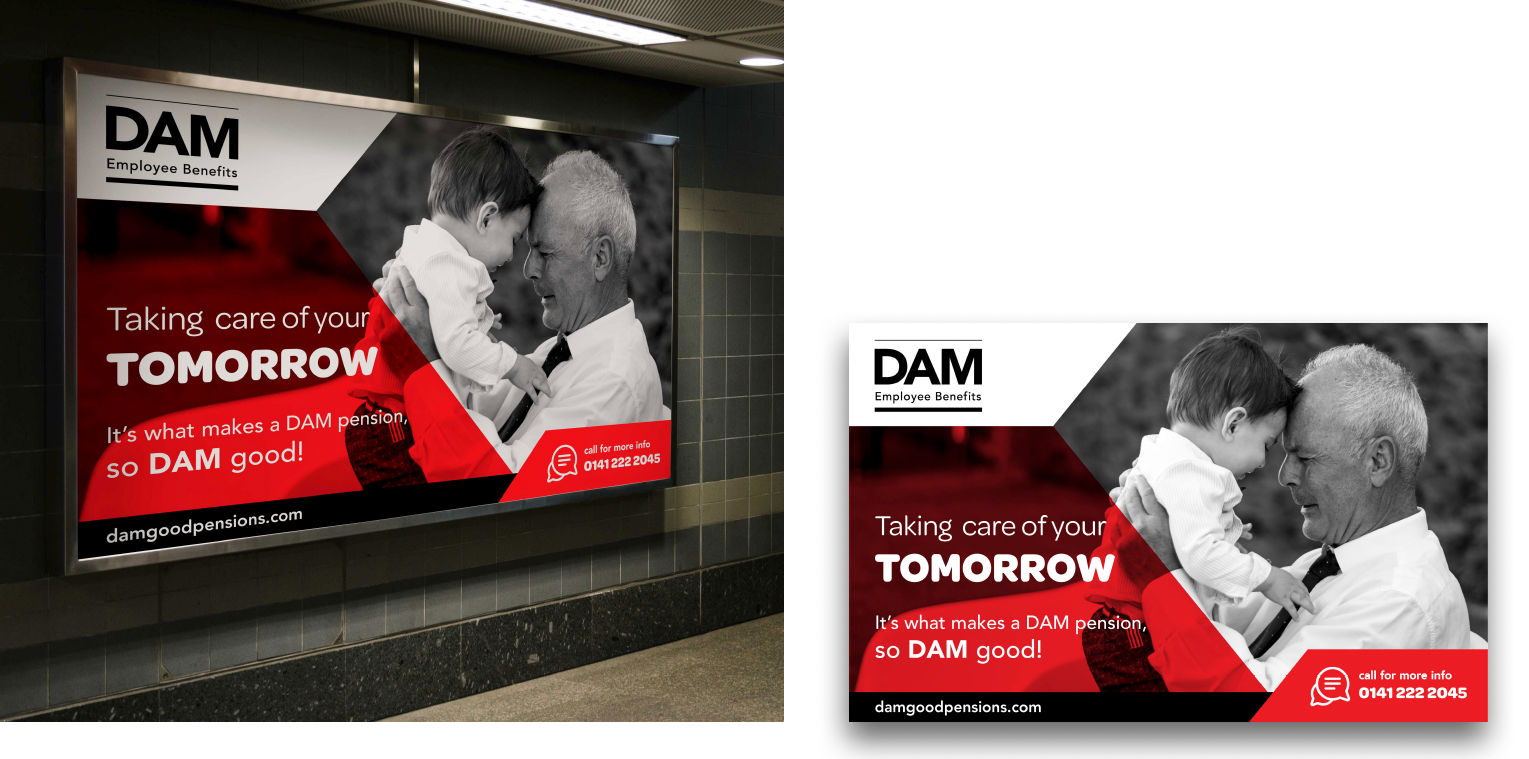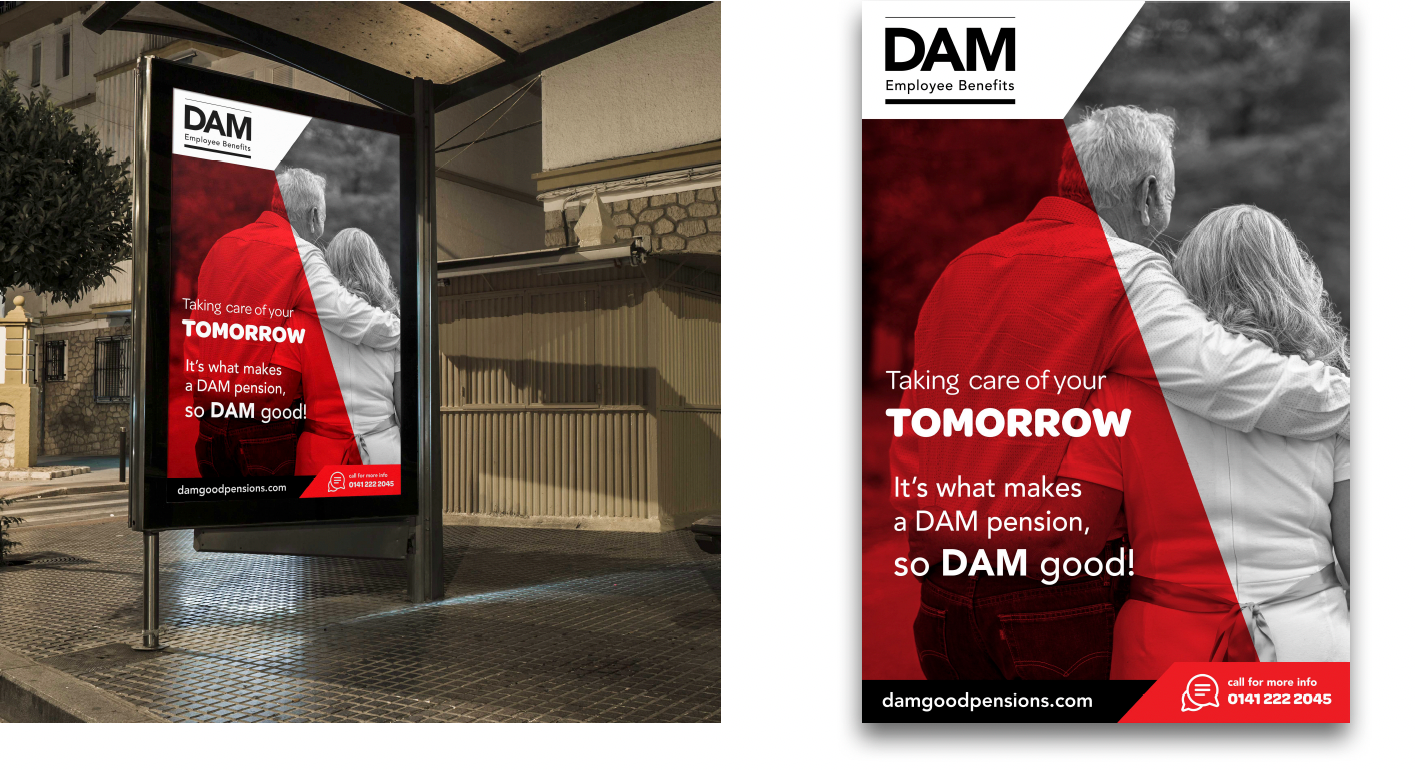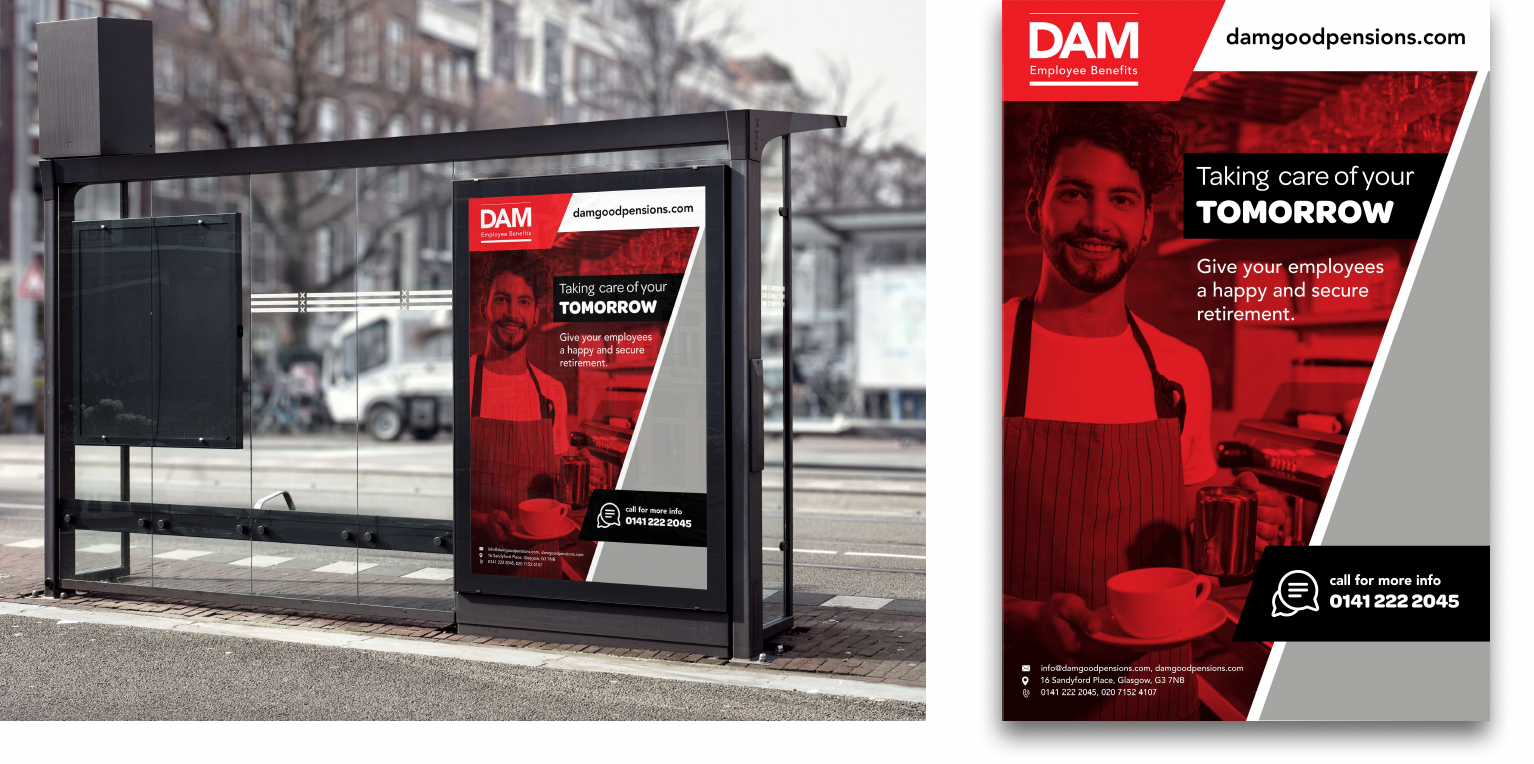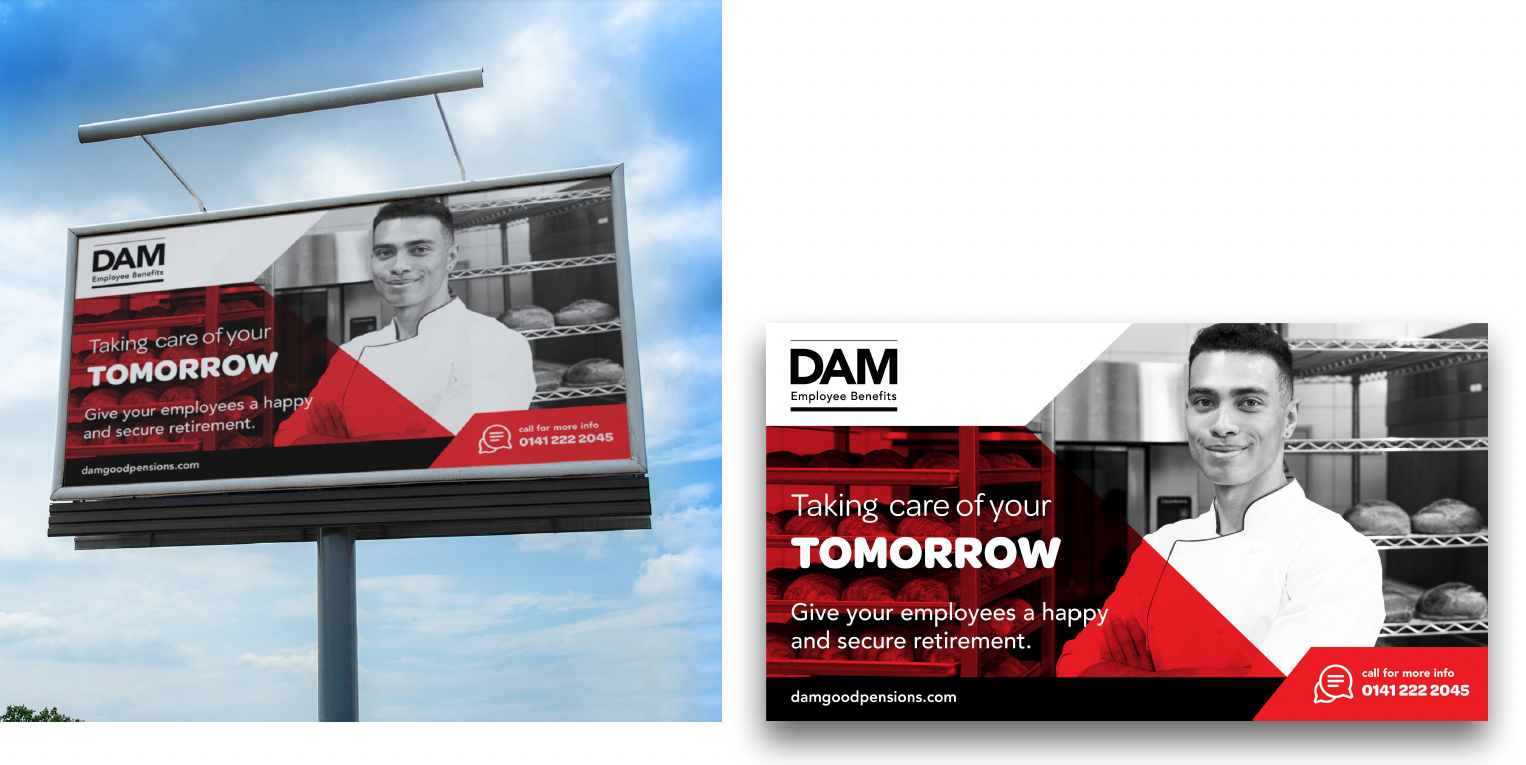 The illustrations/icons also serve as the beginning of a visual library that DAM will have ownership over going forwards.